Thursday, February 16, 2017
Common Mistakes When Upgrading the Kitchen
So you're thinking about selling your house, but what about your outdated kitchen? You know, the one you've been saying for years you wanted to renovate, but never got around to? Now is the time to do your research and make sure you don't make some of the common mistakes that homeowners make when they upgrade their kitchen.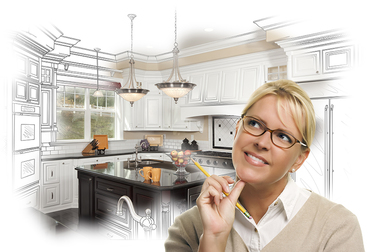 Here are four common mistakes people make when making do-it-yourself upgrades to the kitchen, and how to avoid them:
1. Not measuring correctly
Sounds kind of simple, but wrong measurements can cost you dearly, especially if you are buying custom cabinets. Check your measurements, or even better, have a professional kitchen planner do the measuring for you. If that isn't an option, use some of the free kitchen planning tools on line to help make sure that your measurements are accurate.
.
2. Picking out the wrong appliances
Your appliances are essentially the centerpieces of your kitchen and it's important to consider the look and feel you are trying to create before you purchase them. What color are your cabinets and counters going to be? Are you putting in a backsplash? If so, what is the look you are going for? Once you have made those decisions, it's a lot easier to look at your appliance color options, Whether you decide on all black, all white or stainless steel, your appliances are going to help set the tone of your kitchen, so choose carefully!
3. Choosing cheap materials
You can pretty easily fall victim to choosing cheap materials if you're just looking to give your kitchen a cosmetic makeover, but don't want to break the bank. It may look nice, but adding inexpensive materials to your home interior could actually bring down your property value.
If your floors need to be replaced, don't get linoleum to mask them. Actually replace them. Start with what needs to be done and worry about cosmetics later — if you can afford it.
4. Buying materials online
This is a sequel to our previous point. People tend to buy materials online in order to cut costs when renovating the kitchen. But if you're buying materials online — instead of materials that you've seen with your own eyes and touched with your own hands — then you might be in for a big surprise when your order comes in.
Professional photos can make anything look good, including materials for your kitchen that will look and feel as cheap as they are. You get what you pay for! If it is possible to see the products that you are considering buying on line in person, do it! You'd be amazed how much experiencing products first hand will influence your opinion, and your purchases!