How to Refinish Your Kitchen Cabinets on a Budget
Just because your cabinets have aged doesn't mean they need to be replaced. With a touch of creativity and hard work, you can give your cabinets a refresher that won't cost you a fortune. There are many creative and budget-friendly options that will make your cabinets look brand new.
Before you start gutting your kitchen in desperation, consider these budget-friendly ways to achieve a kitchen refresh:
#1: White Paint
White cabinets are refreshing, sleek and will make your kitchen look clean-cut. Painting your cabinets white or any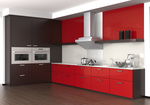 variation of white, such as cream or off white, and then accenting them with colors on your appliances, dinnerware, table, for example, will make the cabinets pop and make your kitchen look updated. Painting is an easy and affordable way to wake your kitchen up. White cabinets have become increasingly popular for those looking for a more modern style in their home.
#2: Contrast by Staining
Stain your lower cabinets a lighter color and upper cabinets a darker color or vice-versa to give your kitchen contrast. This will make your kitchen appear larger and eye catching. Staining cabinets is a simple and cost-effective way to give your kitchen a breath of fresh air. You can also stain both cabinets the same shade for a more cohesive look in case you're not daring enough for a full on contrast.
#3: Update Hardware
Another cost effective way to give your kitchen cabinets a re-vamp is to update the hardware. If you have brass handles, try switching them to gold or even a different style of brass handle. If you have silver handles, try changing them up and installing gold handles. Switching out and updating the handles are easy ways to refinish your cabinets on a budget that doesn't require a lot of work or pocket-emptying.
#4: Glossy Finish
Give your cabinets a glossy shine with high gloss spray paint. Don't let your cabinets remain dull and lifeless: Grab a can of high gloss spray paint and brighten them up. When the sun shines in through the windows in your kitchen, your glossy cabinets will catch the sunlight and brighten the room. Whether your cabinets are painted or wood, adding high gloss spray paint will improve the look of your cabinets and make them appear newer. The high gloss spray paint is a minimal cost with a big improvement.